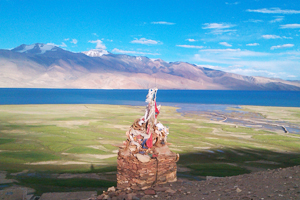 Changthang is the western extension of the Tibetant plateau in eastern part of the Ladakh region and exhibits tibetant plateau influence on Chnsagthang land, such as fauna and its rich wild life.
Changthang is situated at the elevation of 4000meters above the sea level to the west of leh and the nomadic people of Changthang traditionally, produce pashmina wool hence they are the nomads' people of sheeps, goats and with the Yaks. 
The beauty of high altitude lake, like Pangong, tsomoriri and Tsokar Salt lake and the marsh land and the wet land in Changthang region in Ladakh provides excellent breeding ground for thousand migratory birds including black-necked crane, wild ass, and the wild Yak thus makes the whole Changthang plateau as tourist attractive destination in Ladakh.
Place to Visit :
> Pangong-lake.
> Tomoriri-lake and Korzok.
> Tsokar-lake.
> Chumathang Hot spring.