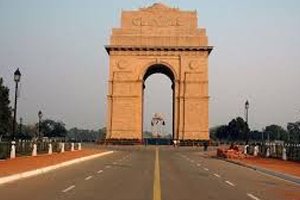 India is a vast south Asian country with diverse terrain from Himalaya peaks to Indian coastline and history reading back to (5-milennia) in north India, Mughal empire landmarks such as Red Fort, Jama Masjid Mosque and Agra Taj Mahal. Pilgrimage bath in the Ganges in Varanasi and Rishikesh is the yoga centre and trekking base for Indian Himalaya.
Delhi - a portrait that reveals the intricacies, inconsistency, glamour and vibrancy of the city where past coexist with present. One of the oldest cities in the world and now, one of the progressive, she combines a unique ambience of the ancient and the modern. Delhi has multitude of choices which offers visitors to visit different places. From museums, theatres, art galleries and festivals to handicraft, designer wear, cuisines from various part of the globe. New Delhi and old Delhi are worlds apart and yet bound together by a magical blend. The nerve centre is the futuristic New Delhi but the charms of the older parts of the city are also very appealing and beyond evaluation.

A truly cosmogonic city, it has brought within its fold people of all ethnic groups and tradition and cultures, portrayed in variety of arts, crafts, cuisines, festivals, theatre performances and art exhibitions. Delhi has ruins dating back to 11th century and bits and pieces of the various dynasties that flourished and finally met their fate. The city was ultimately dominated by the British. Although the rulers of the Raj left the shores of India in 1947, the grand buildings they left are reminders of their authority and splendor.

Place to See
Red Fort
Red Fort is laid outalong the river Yamuna as an irregular octagon , surrounded by a wall of about 2.4 km in circumference and is built of red sandstone. The Mughal king Shah Jahan transfered the capital from Agra to Delhi and the Fort was completed in 1648. The fort has two main entrances , the Delhi Gate and the Lahori Gate which faces the famed Chandni Chowk market.The Fort has Diwan-e-am, and Diwan-e-Khas where the king would grant audience to the public and would grant audience to important people respectively . Besides this is the Rang Mahal, the water cooled Apartment for the royal ladies. In the basement of the fort is a market where traditional Indian goods can be purchased at nominal rates . Another attraction is Light and Sound show held in the evenings.
Qutub Minar
This magnificent structure in the southern part of the captal was built by a Muslim King , Qutub-ud-din Aibak in 1199 A.D. A part of it which he could not finish was completed by another Muslim King Iltutmish. Minar is 72.5 m high and has as its base a mosque. In front of the imposing structer is an Iron Pillar believed to have been built in the 5th century A.D. which has not caught rust ever since it was built.
India Gate
Straight down the road from Rashtrapati Bhavan is India Gate which is primarily a memorial to unknown soldier. Designed by Lutyens , the 42 meter high structure is a war memorial in honour of soldiers who died during the second World War. The structure has an eternal flame (Amar Jawan Jyoti) to honour the memory of the unknown soldiers.
Jama Masjid
One of the Architectural gift given by Shah Jahan , Jama Masjid is one of the largest mosques not only in Delhi but in India. Completed in 1658 this Mosque has three gateways, Four angle towers and two 40 m. high minarets. You can enter the mosque but take precaution to take off your shoes and make sure that you are properly dressed before entering. One can also go to the top of minarets. From here you can have a bird eye view of Delhi.

Day 1- Night at-New Delhi-After your foot steps on Indian Land at New Delhi for your Golden Triangle India Tour, you would be welcomed by our Company representative who would assist you to transfer up to your hotel, get fresh than after visit the Raj Ghat (Gandhi Memorial), Jama Masjid, Humayun's Tomb, Lotus Temple and Overnight stay at hotel at New Delhi.

Day 2 -Night at-Agra-After breakfast visit some places in morning which you missed yesterday in Delhi and then depart to Agra by car. En-route visit Sikandara Tomb and reach Agra afternoon. Check in hotel and visit Tajmahal and Redfort. O/N at Hotel. (New Delhi-Agra Road Distance 200 Km., Journey Hrs 04 Approx, 04 Lane Highways)

Day 3 -Night at-Jaipur- Early morning visit Tajmahal and After breakfast departure to Jaipur by car.

Day 4 -Night at-Airplane- After breakfast fly back to New Delhi for your onwards Journey.
End of Services