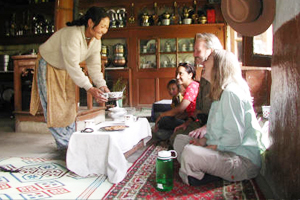 Sham valley trek is the easiest short trek in ladakh also known as the Baby Trek and sham trek is the popular treks in Ladakh Sham valley trek, Sham valley trek itinerary goes through the lower part of Indus valley this Sham Trek can be done throughout the whole year and you will get opportunity to discover the village life rural Ladakh and wildlife.
Sham valley Trek in winter: we organize Sham trek in winter trekking to experience Ladakh winter with Snow leopard trekking in Ladakh. Sham valley trek cost, the cost of Sham valley trek is around (USD 250) per person. The cost includes, Accommodation as per Sham trek itinerary with full board during the trekking in Sham valley trek in Ladakh.
Homestay offers you a unique opportunity to stay with and share the culture of Ladakhi people in remote village, while trekking through rugged habitat of the endangered snow leopard. It allows you to enjoy the rhythm of life in hamlets where farming and livestock herding has been the way of life for centuries. This homestays are offer along trekking routes in Sham valley, Markha valley and Zanskar. By opting for Homestay you help local people generate income from tourism activities in their area and this income will help in many ways.
The homestay provides you a clean, comfortable room with furnished in Ladakhi sltyle, traditional Ladahki meals.
Grade : Easy
Highest point : Tsermangchen-la
Period :  Throughout Year
1. Leh to Yangthang village 4 to 5 hrs
Leaving to west of Leh driving in a taxi along with the Indus River for one and half hour. On enroute visit Basgo palace and likir monastery.
After your first day trek start right from the Likir village hiking little far you get on the first pass Phobe-la 3580mtrs and then descending little down after walk against the river of sumdo village and then crossing the river you will proceed toward the next pass Chagatse-la 3630meters and then you will see camping that is near Yangthang village.
2. Yangthang to Hemis-shukpachan 2 to 3 hrs
After little walking you will cross the river of Yangthang and then ascending toward the pass of Tsermachen-la 3750 meters, right from the top you can see the beautiful Hemis village where stay for night camping site is in middle of the village near the Hemis River.
3. Hemis-shukpachan to Ang/ Temisgang  4 to 5 hrs
Starting of day is easy and after one hour you will see amazing landscape with different colours of hills in the valley. The pass Mebtak-la at 3720meters is nice zigzag hiking trail for about one hour. From the top all the way downhill takes you to the village Ang and Tamisgang which has historical ruin fort of Ladakh. Camp at Temisgang.
4. Timisgang to Balu-khar/fort. 4 to 5 hrs
Walking through the village of Timisgang, passing nearby village Tia for one hour and then start ascending to reach on the last pass of the trek, which is Bongbong-la 3630 meters. From the top of pass you will enjoy the panoramic view of the villages, after long descending reach to main road NH-1 there you will picked up.