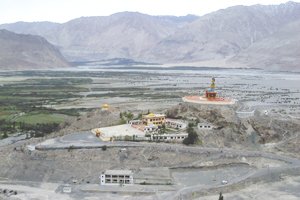 Nubra valley is a tri-armed valley located to the north-east of Ladakh region and Diskit village is the capital of Nubra valley (120km) from Leh, Shayok meets with Nubra River to form a large valley of Nubra that separates the Ladakh and Karakorum Range. The gate way to travel Nubra valley is over the khardongla-pass from leh and foreign Nationality are required to get a protected area permit to vist the Nubra valley and inner line permit for Indian Nationality as per government rules.
Nubra valley is popularly named as the valley of flowers and geographically it is located between the Karakorum Range and Ladakh Range at an elevation 10000 feet above the sea level. The road to Nubra valley is running across the world highest motorable road Kardong-la pass 5600mts.
The highest military battle field Saichen glacier and the K-2 the 2nd highest peak of the world is located in the Karakorum Range and the Himalaya is linking with the HindKush of Afghanistan and central Asia by the Karakorum Range.
The Shayok and Saichen River originated from the Karakorum and Saichen glacier and confluence of two rivers are meeting at the foot of Karakorum range and Ladakh Range at the Y-junction of Saltro mountain ridge. The combination of Bactrian's camels, silver sand dune and historical silk route makes Nubra valley romantic ideal to central Asian affinities and influence in the valley of flowers.
Places to Visit :
> K-top the world highest motorable road 5600meters.
> Diskit and Hundar.
> Turtuk.
> Samstanling