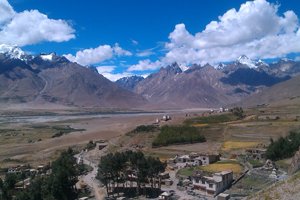 Zanskar valley trek, the treks in Zanskar valley is perfect challenging trek across Zanskar from Lamayuru to Darcha trek and the Zanskar valley trails is nature stunning canvases trekking routes for trekkers in Zanskar Himalaya, the winter trekking in Zanskar valley the Chadar trek or the Zanskar frozen river gorge trek is the winter trails for Zanskar valley and Zanskar valley is located to the south east of Leh is enclosed by Himalaya Range and Zanskar Range.
Zanskar Range: Zanskar Range is a mountain range in the Indian state of Jammu and Kashmir that separates Zanskar from Ladakh, geologically Zanskar mountain range is part of the Tethys-Himalaya and highest peak of the Zanskar mountain range are NUN PEAK (7135mtrs), KUN PEAK (7077mtrs) KANGYATSE PEAK (6400mtrs), STOK KANGRI PEAK (6150mtrs) and PINNICLE PEAK (6800mtrs)
Zanskar River: Zanskar River is the main tributary of the Indus River, the Zanskar River has two main branches the Doda River has its source from the Pensi-la-pass (4400mtrs) flows towards Padum Zanskar valley and the Tsarap River has two main tributaries Shingola and Baralacha-la flowing towards Zanskar valley and the Zanskar river takes a north eastern ward through the Zanskar Gorge until joins the Indus River near the Nimo village
Places to visit in Zanskar valley: The places to see in Zanskar valley is Pensi-la-pass, Drang-Drung Glaciar, Phuktal Monastery, Zangla Palace, Karsha Monastery, Panikhar, Rangdum Monastery and Zanskar River, NUN and KUN Peaks, Padum to Darcha Trek, LAmayuru to Drcha Trek.
How to Reach Zanskar Valley: The best way to travel Zanskar valley and the shortest route to reach Zanskar valley from Delhi to Zanskar is through Srinagar to Kargil and once you reach in Kargil you need to travel (250km) to reach at Padum in Zanskar valley, by Sharaplee.
Best time to visit Zanskar valley: Best time to visit in Zanskar valley is from the month of June to September, by Sharaplee
Padum has been the ancient capital of zanskar centuries back and now the administrative capital has become a famous trekking base and great tourist destination in this Himalaya range.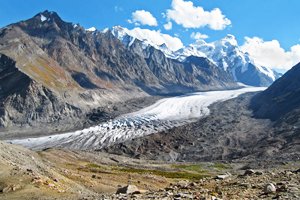 Places to Visit :
> Karsha Gonpa.
> Zangla palace.
> Sani castle.
> Zonkhul monastery
> Phuktar Gonpa.
> Rangdum.