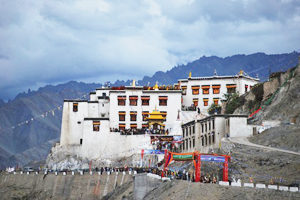 Trekking in Ladakh is the best way to explore the Ladakh region trekking and best treks in Ladakh is the main tourist attraction for trekkers in Ladakh, therefore, trekking routes in Ladakh are Markha valley trek, Stok Kargri trek, Snow leopard trekking in Ladakh, Spituk to Stok trek, One day trek in Ladakh, Sham trek, nubra valley trek and Markha valley trek. Ladakh trekking cost, the trekking cost in Ladakh is cheaper than other trekking agencies that had standard fee of (USD 35.00) per person per day. Best time for trekking in Ladakh is from July to August.
Leh is the head quarter of Leh district of Ladakh region of Jammu And Kashmir State and It is situated to the north of Indus River at the elevation of 3500meters above the sea level.
Leh palace, the legendary lion palace building on the granite hill is magnificently dominating view  down to leh town is stand out tall despite the bloody invasion by the central Asian invaders, in the past Leh has been an important trade centre for central Asian trader in the Indus valley, Tibet and China and now leh is  hub of all the activities, a great destination of the foreign tourist and became a tour and trekking base.
Places to Visit :
> Tsemo Gonpa
> Leh Palace
> Shanti Stupa
> Upper Indus valley
> Lower Indus valley