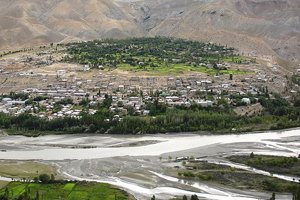 Zanskar valley is a Sub-District of the Kargil District in the Indian state of Jammu and Kashmir, its present administrative centre is at Padum Zanskar and formerly it was part of the Tibetan Kingdom of Guge in western Tibet and the Zanskar Mountain Range is Geologically part of the Tethys- Himalaya. Zanskar valley is most isolated Trans-Himalayan Region of Ladakh. Zanskar valley is a trail of nature stunning canvases for trekkers in Himalaya tourist destination.
Zanskar Range: Zanskar Range is a mountain range in the Indian state of Jammu and Kashmir that separates Zanskar from Ladakh, geologically Zanskar mountain range is part of the Tethys-Himalaya and highest peak of the Zanskar mountain range are NUN PEAK (7135mtrs), KUN PEAK (7077mtrs) KANGYATSE PEAK (6400mtrs), STOK KANGRI PEAK (6150mtrs) and PINNICLE PEAK (6800mtrs)
Zanskar River: Zanskar River is the main tributary of the Indus River, the Zanskar River has two main branches the Doda River has its source from the Pensi-la-pass (4400mtrs) flows towards Padum Zanskar valley and the Tsarap River has two main tributaries Shingola and Baralacha-la flowing towards Zanskar valley and the Zanskar river takes a north eastern ward through the Zanskar Gorge until joins the Indus River near the Nimo village
Places to visit in Zanskar valley: The places to see in Zanskar valley is Pensi-la-pass, Drang-Drung Glaciar, Phuktal Monastery, Zangla Palace, Karsha Monastery, Panikhar, Rangdum Monastery and Zanskar River, NUN and KUN Peaks, Padum to Darcha Trek, LAmayuru to Drcha Trek.
How to Reach Zanskar Valley: The best way to travel Zanskar valley and the shortest route to reach Zanskar valley from Delhi to Zanskar is through Srinagar to Kargil and once you reach in Kargil you need to travel (250km) to reach at Padum in Zanskar valley, by Sharaplee.
Best time to visit Zanskar valley: Best time to visit in Zanskar valley is from the month of June to September, by Sharaplee
Kargil region is one of the erstwhile kingdom of ladakh is situated along the Suru river and Waka Chu and Kargil town is located over equidistant from Leh, Srinagar and Zanskar.
Kargil has been merchandise center for central Asia. the ethnic and cultural affinity and influence are emanating from their neighbor's region. The Indo-Aryan Mon, Dards and the Tibetant nomads are the first inhabitant of the Suru valley, originally people of Suru valley once has been a Buddhist area, later on , Shai Muslim were introduced by the central Asian and Kashmiri missionaries around in 15th century.
Places to Visit :
> Mulbeck chamba.
> Phokar-Zong
> Drass