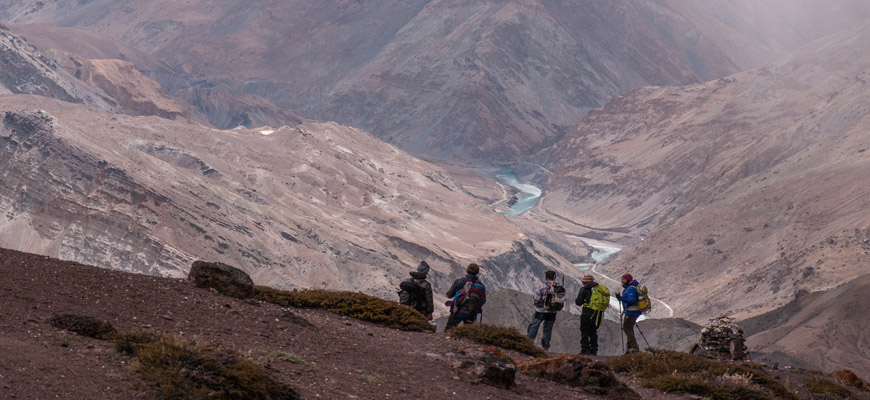 Spituk to Stok is a classic short treks in Ladakh is easily accessible trek after crossing the Spituk bridge then trekking goes toward the Zingchen gorge into the Rumbak valley and Spituk to Stok trek is a part of Markha valley trek in Zanskar mountain Range which provide panorama view of Indus valley and Ladakh Range. The last day of the trek from Rumbak valley to Stok village you will cross the Stok la pass which offers you the spectacular view of the Gandala pass with Rumbak valley the snow leopard capital of Ladakh and the hot zone of snow leopard spotting in Ladakh region.
Day 1,Spituk to Zingchen 3700 m (4-5 hours)
Treks begins along an old traditional route on very dry land, After 3 hours the landscape becomes greener as we go into the Zingchen gorge Valley, where the Rumbak River flows into the Indus. Our camp is in the small village of Zingchen there is just two houses. The rest of the day will be spent for enjoying the view and go for river bath in the zingchen stream..
Day 2,Zingchen to Rumbak 3900 m (3-4 hours)
Today we will enter towards Hemis National Park the rumbak valley a home to Snow Leopard, Ladakh Urial, Tibetan blue sheep ,Tibetan red fox, Tibetan wolf, wild dog and marmot We gradually climb up to rumbak village ,over night at camping.
Day 3. Rumbak to Stok la-changmachen
After early breakfast, you will ascend towards the Stok Pass and descending to downward will takes three hours to reach chengmachen camping place. Over night at camp.
Day 4. Camp Site – Stok – Leh
Today is easy walk downhill all the waye along the streamup to stok village and if you want Visit the Stok Palace and drive back to leh.
Treks end